Female Wrestling Customs is the place where producers of female fighting videos advertise the availability of their models / wrestlers for custom video / sponsored video shootings.
Here you will find all your favorite producers and models / wrestlers without having to search all across the internet and social networks!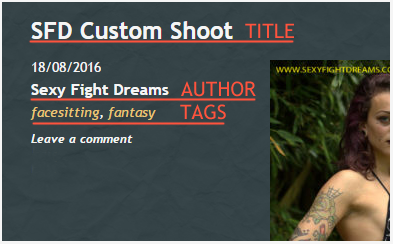 How it works: each post is an advertising for an upcoming shoot or contains information about the custom video or sponsored video shooting activity of the producers.
On the left, for each post, you can click:
the post Title to open the post
the post Author (the name of the producer) and see all his/her posts.
the Tags listed and you will see all the relevant posts, regardless of the Author.
On the right, you can search the entire website for any word, wrestling move, wrestler name, producers' email… whatever.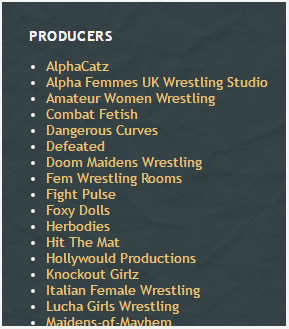 Or you can find out more about all the Producers advertising here, simply clicking their names, again on the right side: a page with more detailed information on each Producer, including the link to their website, will open.
You are welcome to leave your comment and share your opinion with other users about your experience and expectations.
Now, Go on and find the perfect custom video offer for you!